Spin-up your training and testing Cyber Range environments in under 1 Minute.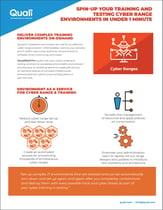 Dynamic isolated environments are vital for an effective cyber range solution. Training your security and IT staff in real-world, environments is complex, time-consuming, and costly.
Discover how CloudShell Pro works with your cyber range and testing solutions to:
Deliver complex training environments in under one minute

Simplify the management of resources

Automate the provisioning of multiple cyber range and training environments

And more
Learn how you can spin-up self-service, on-demand Cyber Range environments with CloudShell Pro!
Download the Use Case
Trusted by Global 500 and Innovators Everywhere